Five Culinary Education Program Students of Engineering Faculty of Yogyakarta State University Grab Scholarships from Waroeng Special Sambal 'SS'
Primary tabs
Submitted by

humas-ft

on Mon, 2020-12-14 09:12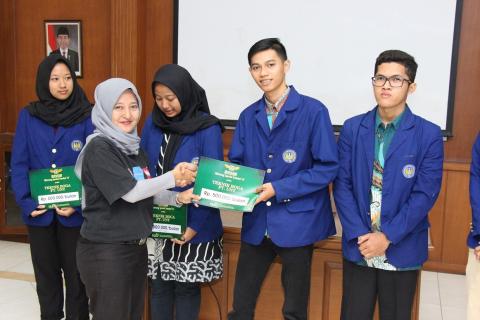 Five students from the Culinary Education Program (S1) and Food Engineering (D3) received scholarships from the Waroeng Special Sambal 'SS' CSR fund in the form of monthly tuition assistance for one year. The five students were Annisa Nur, Kurniawan, Ahmad Zainul, Rizka Putri Mumpuni, and Donny Olga. In addition to an economic background, the awarding of these scholarships is also based on the activeness of students, motivation to learn and GPA. The 2019 "SS" Special Sambal "Waroeng Scholarship" was symbolically sealed by the Head of HLS (Public Relations, Legalities and Civilization) "Sambo" Special "Sambo" Special SS Waroeng accompanied by the Yogyakarta Area Manager and the Yogyakarta Area Kasi HR.
According to Section Chief of Waroeng Special Sambal "SS", Widiyatmoko, this program is a form of their consistency in supporting the world of education in Indonesia. "This is in line with one of the vision of" SS "which is to contribute to the welfare of people's lives," he said.
"The reason we chose UNY Food majors is because it is in line with our core business in the culinary field," he said.
"We hope this assistance can be utilized to the maximum extent possible to support the academic activities of the students so that they will be more blessed in their studies," continued Widiyatmoko.
"In addition to receiving scholarships, students also have the opportunity to do internships so that if their performance is good, they also have the opportunity to be recruited to work in our shop," he said.
Meanwhile, Prof. Dr. Mutiara Nugraheni as Chair of the Department of Culinary and Fashion Education said that this program will be very beneficial especially for students in supporting their learning process.
"We are sure this scholarship will increase students' sense of enthusiasm to continue learning and hone their expertise and stimulate their intensity to learn," he continued.
"Passing the scholarship will also certainly give a sense of pride for a student so that they can increase their confidence in learning and actively involved in various positive activities both on campus and off campus," he added.
Meanwhile, Annisa Nur, one of the scholarship recipients was very grateful for the scholarship program from Waroeng Special Sambal 'SS'. "This program certainly encourages us to compete in terms of academic achievement and increase our motivation in learning," he admitted.