Students of Tun Hussein Onn University Malaysia (UTHM) Participated in Culture Exchange Program
Primary tabs
Submitted by

humas-ft

on Mon, 2020-12-14 09:17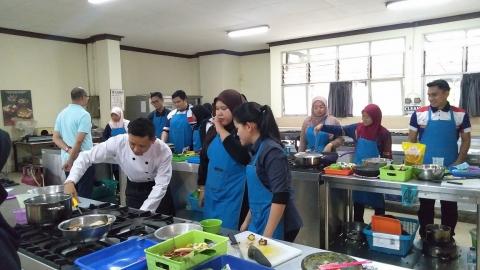 Students of Faculty of Engineering Education and Vocational UTHM (Tun Hussein Onn University malaysia), Saturday (29/11/2019) participated in culture exchange program which is a activity carried out by UTHM and YSU as a forum to introduce diversity in each country such as arts and culture and culinary fields.
This activity involves Faculty of Engineering (FT) as well as Faculty of Language and Art (FBS). At FBS, Malaysian students learn about traditional dance and Karawitan, while at FT they receive cooking training which is attended by 16 students of Faculty of Engineering Education and Vocational of UTHM from various majors, such as catering, machinery, building construction, air conditioning, and multi media.
Cooking training conducted by UTHM students was held at the Laboratory of Food Science Faculty of Engineering YSU accompanied by each lecturer from UTHM and YSU. On this occasion, UTHM students were taught to recognize Indonesian spices and to make some Indonesian food specialties, including ayam geprek, sayur lodeh, and sambal terasi. Dr. Zanairah, as a lecturer from UTHM explained that this activity was a student exchange program with the aim of establishing close relations between UTHM and YSU. There were a number of visits including industry training and culture exchange.
"One of todays culture exchane, we visit Faculty of Engineering YSU to know and make Indonesian food which tasted so complicated", she added. She hopes the close relations between UTHM and YSU will always be continuous.