STUDENT OF FACULTY OF ENGINEERING UNY SUCCEEDED IN DEVELOPING SRIWEDARI VILLAGE AS TOURISM DESTINATION IN MAGELANG
Primary tabs
Submitted by

humas-ft

on Mon, 2020-12-14 09:08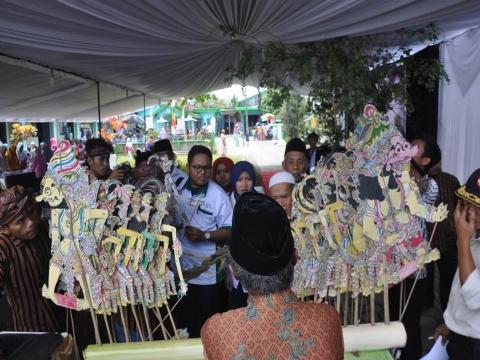 Khabib Anwari, student of faculty of Engineering class 2015, succeeded in developing Sriwedari Village in Magelang as an active and productive village. The idea was started when Khabib and few students tried to design a program to develop and empowered people that was collaborated with the university during the Students Night of Culinary and Fashion Education Department in 2016. From the two days events, participated students expected to give solution for problems faced by the village people based on their scientific fields.
After the event end, Khabib and few UNY students and village youth continued the program by collaborating with local government and non-government agencies to empower people of Sriwedari Village.  Finally, after two years of hard work, on February 2018, the tourism village was officially open by Magelang Military District Commander and Magelang Tourism Office.
The tourism village offers extreme tubing tourism on the Blongkeng River, outbound in rice fields and villages, camping ground, home stays, home industry trips, and so on. Its location which is not far from the Borobudhur Temple Tourism Park (TWC) complex and traversed by the main route Semarang - NYIA (New Yogyakarta International Airport) makes Sriwedari Tourism Village has enormous potential to be developed as a tourist village. Khabib and the team hope that the people of Sriwedari Village will keep the enthusiasm to be creative and carry out various activities in order to realize the empowered Sriwedari Village.